If you're planning a trip to the Black Hills of South Dakota, but are on a limited time schedule, this article will show you how to see the best that the Hills have to offer and be able to do so in less than a week.
There is so much to see and do, that nobody could possibly do it all on one trip, so this guide will help you to spend your travel time wisely.
While the entire Black Hills area is rife with tourist attractions, there are only a few that really are worth seeing, the best of which are located in or near the towns of Custer, Keystone, and Hill City.
While all three have numerous small shops and museums that are fun to browse, the people who spend the majority of their time there, often miss the best that these places have to offer.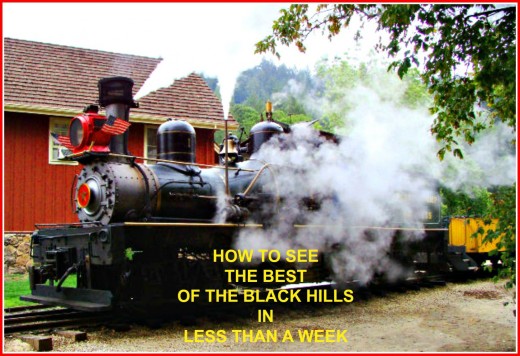 Custer State Park
You have two choices for your one week vacation:
You can either visit the attractions I mention below, or you can stay in or near Custer State Park.
The park is a stunningly beautiful, 71,000 acre wildlife preserve that houses campgrounds, lodges, lakes, hiking trails, and all sorts of wildlife.
There are so many things to see and do within the park, that you could spend weeks there. For example, you can:
visit or stay in one of the four lodges,
stop by the fire tower,
camp in one of the 10 campgrounds,
visit the country store,
hike the six trails,
drive down to the park's corrals,
tour the wildlife loop road to see buffalo, prairie dogs, deer, antelope, elk, and other wildlife,
take in a live show at the park's Black Hills Theater,
go to a barn dance,
learn how to pan for gold or understand the stars,
go fishing in one of the park's many wonderful freshwater streams,
visit the home of South Dakota's poet laureate,
drive along the magnificent and scenic Needles Highway.,
visit the Mt. Coolidge fire tower,
tour the park's two visitor centers and museums,
visit the old fort at the park's West entrance and/or
attend the annual wild buffalo roundup, festival and sale in the Fall.
If you choose the second option, you can still stay in the park and enjoy it as a home base while you visit the other attractions mentioned below.
There is no way you will be able to see both in less than a week. Even two weeks would be a stretch.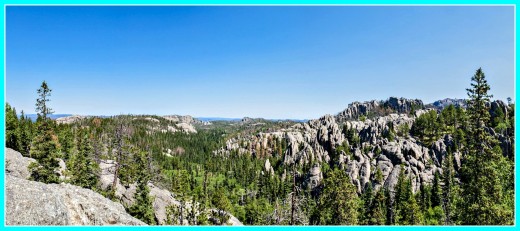 Anybody visiting the Black Hills will pay a visit to Mt. Rushmore, but a good number miss seeing the Crazy Horse Memorial.
Both incredible attractions are located near the towns of Keystone and Hill City, but you should plan on spending at least a day to see each one.
Another well known (but costly) attraction you should see is the big old time steam engine train called the 1880's train.
It travels several times daily from Hill City to Keystone and back.
When you are on it, you really do feel as though you're back in the old West, and they even have a fake cowboy "hold up" during the ride that kids and adults alike just love.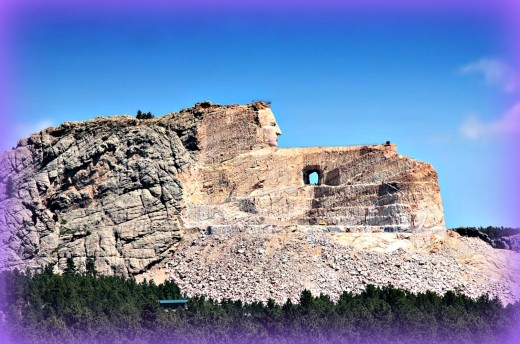 The Gutson Borglum Historical Center
The train allows passengers to depart at either town so that they can enjoy the sights and have a bite to eat, but unfortunately it stops at the opposite side of Keystone from its most interesting attraction, the Gutzon Borglum Historical Center.
It's a bit of a walk to get to it, but it's well worth the effort to do so.
This self guided tour gives visitors an extremely detailed view of Borglum's life as well as the work he did when creating Mount Rushmore.
It also presents a wonderful history of Mount Rushmore.
This information is a real eye opener because it takes you back to a time when construction techniques were much more primitive than they are today.
The artifacts and videos one sees there are a real testament to the ingenuity, planning and hard work that went into the sculpting of Mount Rushmore.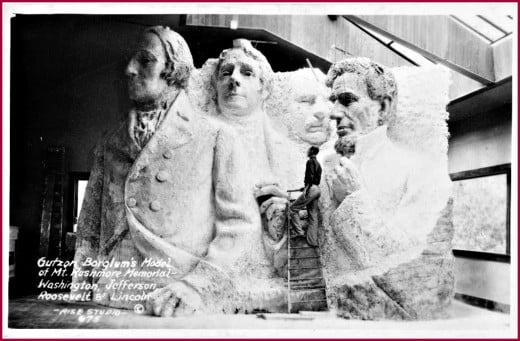 The Best Place to Eat in All of the Black Hills
There are numerous restaurants in the general area, but none can match the charming restaurant called The Alpine Inn.
It is a very old hotel that sits on the register of historic places and is owned by a German family that really knows how to cook!
The food is so good that people stand in line for hours to get into this place, so if you decide to go, show up early!
Instead of one large dining room, it is composed of several small ones, all decorated in old west style.
They only serve lunch and dinner and only accept cash.
It's the only restaurant I've ever seen that only offers just two entrees for dinner: a small bacon wrapped filet or a large one! Side dishes are the same for every customer: a wedge of lettuce drenched in home made Ranch Dressing, a baked potato and some Texas Toast.
I'm adding a link to their
menu
here so that you can have a better idea about what they serve and how much they charge.
Dining there is an outstanding experience, and one you definitely will not want to miss!
Spend Your Black Hills Vacation Time Wisely
There is so much to see and do in the Black Hills that there is no way that visitors would have the time to see it all.
Since a number of great attractions are clustered in and around Hill City and Keystone, I felt that telling you about them would allow you to able to see the best the area has to offer in the shortest amount of time.
If you want to see the rest, you'll simply have to visit again!
Happy Trails.